GOOCHLAND COUNTY
SHERIFF'S OFFICE
GOOCHLAND COUNTY
SHERIFF'S OFFICE
GOOCHLAND COUNTY
SHERIFF'S OFFICE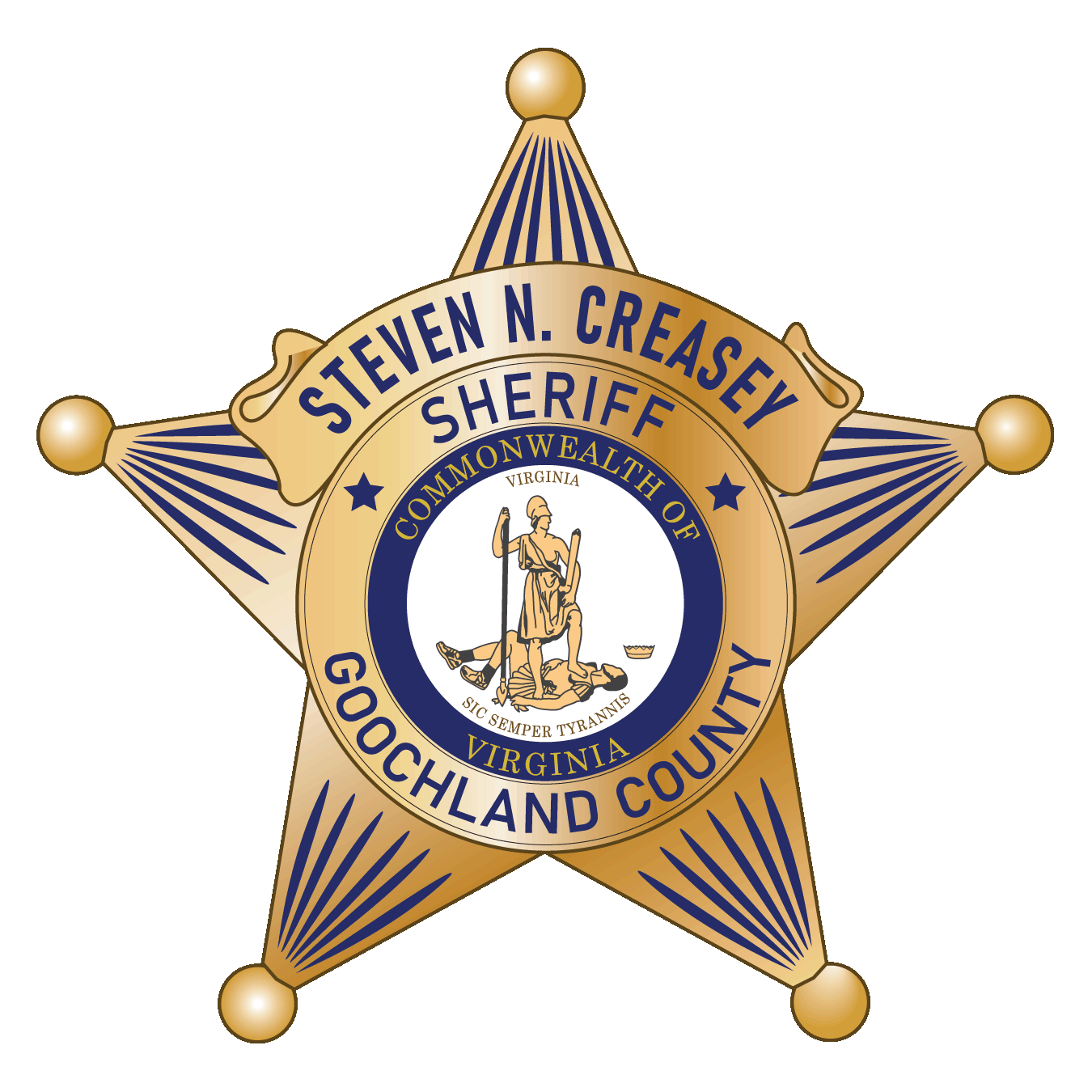 GOOCHLAND COUNTY SHERIFF'S OFFICE
DEPUTY SHERIFF - JOB REQUIREMENTS
​
REQUIREMENTS
​
Applicants Must:
• Be 21 years of age or older
• Be a U.S. Citizen
• Possess a high school diploma or equivalent
• Possess a valid driver's license
• Successfully pass a written test
• Successfully complete physical agility test
• Successfully pass an oral review board
• Successfully pass a polygraph examination
• Successfully pass a comprehensive background investigation
• Successfully complete a physical exam
• Interview with the Sheriff
• Successfully pass a psychological test (if required)
*Excellent benefits package and a take-home car if the applicant meets the requirements.
GENERAL DEFINITION OF WORK
​
• Under direction - provides law enforcement services and protection for our community,
Goochland County
• On an assigned shift - operates a patrol vehicle to enforce violations of traffic laws,
suspicious activities, and disturbances of law
• Takes appropriate action upon observation of these activities
• Provides courtroom security
• Performs civil process services
• Must be able to wear a mask
• Does related work as required; works under regular supervision
DESCRIPTION OF DUTIES (not all-inclusive; must be prepared to complete other duties as assigned)
​
• Patrols an assigned area to enforce traffic and criminal law and suspicious activity
• Responds to radio calls for service
• Handles domestic disturbances and a variety of citizen complaints
• Conducts criminal investigations
• Prepares detailed reports
• Testifies in court
• Assists disabled motorists, investigates vehicle crashes, and directs traffic as necessary
• Assists other agencies as necessary
• Ensures the security and order of courtrooms prior to and during court sessions;
removes unruly individuals from the courtroom
• Searches courtroom for contraband and inmates for unauthorized possession prior to
court appearance
• Transports and supervises prisoners to and from court, secures in holding cells
• Transports prisoners to other jails and institutions
• Carries out all orders of the court
• Serves summonses, notices, warrants, and capiases
• Flexibility in work schedule in order to be 'on-call' at times outside of regular shift
• Makes arrests, forcibly if necessary, using handcuffs and other restraints
• Subdues resisting suspects using appropriate weapons, maneuvers, and other approved
self-defense methods.
KNOWLEDGE, SKILLS, & ABILITIES
​
• Working knowledge of modern police methods, practices, and procedures
• Knowledgeable of applicable federal, state, and county laws and ordinances
• Knowledgeable of the County's geography and the location of important buildings and
landmarks
• Knowledgeable of the Sheriff's Office's Standard Operating Procedures, Rules and
Regulations, and Executive orders
• Skilled in handling a variety of stressful and dangerous situations, guiding involved
parties toward positive resolutions
• Skilled in interviewing techniques
• Skilled in the preparation of detailed reports
• Ability to interpret and follow oral and written instructions
• Ability to deal courteously but firmly with the public
• Ability to rapidly analyze situations and make sound decisions with due regard to
surrounding hazards and circumstances, while adopting quick, effective, and reasonable
courses of action.
• Ability to maintain physical agility and endurance
• General knowledge of court procedures
• Ability to exercise tact and judgment in handling visitors of the court and in maintaining
the behavior of prisoners
• Ability to develop skill in the use of firearms
• Knowledge of the geography of the county
​
MINIMUM EDUCATION & EXPERIENCE
​
Any combination of education, training, and experience equivalent to graduation from high
school.
​
If the applicant is not currently certified in the Commonwealth of Virginia, the applicant will be required
to complete the Law Enforcement Basic Academy followed by successfully completing a field
training program.
​
If the applicant is currently certified in the Commonwealth of Virginia, the applicant will be required to
successfully complete a field training program
​
BENEFITS
​
Competitive Pay

12 paid holidays per year

Vacation & Sick Leave

Deferred Compensation

Employer Paid Retirement Plan (VRS)

Health & Dental Benefits

Prescription Drug Coverage